Home > Services
Satellite Transmission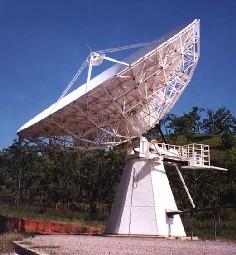 Wavecom provides VSAT or Very Small Aperture Terminals, software-driven earth stations (typically 0.9-2.4 meters, which equates to 3-8 feet, though larger units are available) used for the reliable transmission of data, video, or voice via satellite. It requires no staff or additional technology to operate it. It simply plugs into existing terminal equipment.
VSAT satellite communications provide virtually error-free digital data communications and better than 99.9% network reliability 59*
No matter how remote or dispersed your operations are, VSATs provide a link to your headquarters. VSAT can provide remote diagnostics, remote monitoring, and data streaming services from remote or hazardous sites

We offer a wide range of portable and bench-top telecommunications and data communications test and measurement products that measure the performance of services on a variety of interfaces. These products are used by telecom service providers, enterprise network operators and large corporate network maintenance supervisors and managers alike to control the quality and costs of their networks.
Telecommunication and Mobile Communication Testing

Enterprise Network Solutions

Access Network Solutions

Time & Frequency Synchronization Systems

Broadband Network Tools

Mobile Radio Testing

Microwave Frequency Synthesizing and Testing

Broadcast TV Testing Solution
Education:
Education is one never-ending process. The ethics demand that less of lay offs and more of technical training would bring out and increase the efficiency rates. Thus education systems have been embedded in the management techniques. Without some sort of infusing, the performance quality is stagnant and non-consistent.
Thus training programs have been introduced which are to share the knowledge from top to down level and thus neutralize the management effect and monopoly as well.
The other apparent advantage is that the personnel get more expensive for other organizations to employ.
Trainers

Computer Based Training

Lab Equipment

Engineering Field

General Test Equipment
Multimedia:
Entertainment is highest paid and invested area of technology. The entertained need to be satisfied with the finest mix of colors and fine tuned technology. Multimedia comprises of education, viewing, presentations, and teleconferencing. It's the amalgamation of many mediums that allow the communications, which is the base of the technological demands.
The flair of the industry needs that everything should be carried less than one roof. This is what makes the others look at Wavecom
To meet the needs of a diverse group of professional applications Wavecom offers a range of wide variety of Multimedia solutions including following:
Audio / Video Presentation Rooms

Projection & Display Systems

Public Address Systems

Interactive TV / VOD

Conferencing Systems

Translation Systems

CCTV / Security Systems
Activities:
To keep up with its high-end technology reputation Wavecom actively participates in various exhibitions and seminars both in and abroad UAE. This also ensures that Wavecom continues to highly satisfy its local and international clients.
Projects:

The valor and appreciation in competition comes with challenging and grueling experiences, even in this race the fittest has to survive.
Wavecom has been inclined towards the improvement throughout; the priority has never been missed. The quality is outspoken by the ones who have been in contact with Wavecom.
The never stopping projects are a brand of trust that the clients of Wavecom place in the venture with it.
Some of our FSO projects:
*For MobiNil : We successfully made lots of Microcell connection for GSM to MobiNil using 300 links of FSO including installation and maintenance knowing that our team is perfectly qualified to this mission.
*For British Petroleum (BP) : Numbers of FSO links were successfully installed to BP by our team.
For more information about Our Projects click here