Home > Products > Cable solution > ACOME

1.Copper Access Networks
A complete range of switching and unbundling cables
In order to meet the growing demand for high speed transmission, ACOME has developed a complete range of products for telephony distribution and ADSL applications from the phone exchange to the end-subscriber.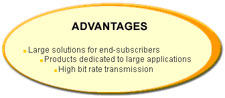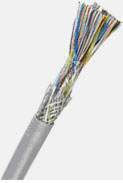 From the phone exchange

ACOME manufactures and offers a large cables range dedicated to phone exchange equipments for high bit rate transmission.
These cables are designed for connection of transmission equipment in telecommunication station or substation, Digital Access such as ISDN and xDSL and high bit rate transmission up to 2 Mbit/s.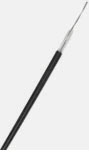 To the end-subscriber

The 5/99 drop cable is a very economical aerial telephony cable dedicated to the connection of private users to the local area telephony network. It has been designed to support XDSL transmissions.
The 5/99 drop cable is a patented ACOME product and is compatible with most connecting equipment to be found in the market.
2.Eelnet®
Solution for fibre optic access networks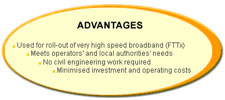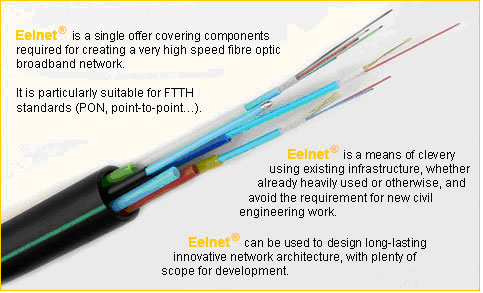 PLUS POINTS OF THE Eelnet® OFFER
Full compatibility between all components,

Reliable, proven solution, used by many operators and local authorities
throughout Europe,

Speedy network installation (inc. connection),

Easy access" technique for maximum network development possibilities
Website: www.acome.fr